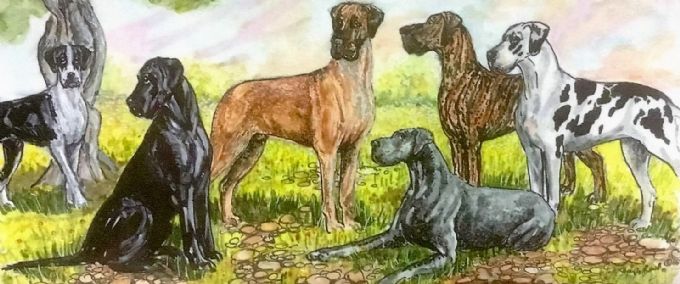 Welcome!
This is the official site of the Great Dane Society of Queensland Incorporated (thankfully shortened to GDSQI). GDSQI was established in 1974 and welcomes all owners and those interested in Great Danes. You don't have to own a Great Dane to be a member, and you don't have to live in Queensland.
We are a pure breed club, and most of us compete in conformation shows and/or dog sports, as well as occasionally breed our dogs. We live and breathe Great Danes!
Dog Showing is a great hobby to participate in and contributes to the betterment of the breed in many important ways. We also welcome new members who are interested in furthering the development of our social program, dog sports and utilities, and health events.
As a Club, our aims are:
To enhance the profile of Pure Bred Great Danes in Queensland and Australia.

To advocate and encourage responsible Great Dane ownership, promote excellence in breeding and good sportsmanship in exhibiting and all forms of competition and fun.

To maintain the breed standard, and uphold the values of GDSQI, Dogs QLD and the Australian National Kennel Council (ANKC).
Contact Details
Please make contact with Club Secretary; Victoria Lansbury
34960 Visitors